Vintage Science Fiction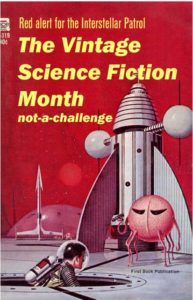 month takes place every January, and has a few guidelines:
 – read, watch, listen to, or experience something science fiction / fantasy that was created in 1979 or earlier
 – talk about it online sometime in January
 – have fun
If any of my readers are also interested in participating this month, let Little Red Reviewer know about your posts if you'd like them to be included in her official roundups. 
This week I'm going to be talking about "It's A Bird," a three-minute, stop-motion animation film from 1930 that featured Charley Bowers and a metal bird that was capable of turning metal scraps into something incredible.
Harold L. Muller was the director of this film. Click here to watch it or check out the embedded version below. It is safe for viewers of all ages.
Caution – Major Spoilers Below
Think about all of the hours of work that went into creating this film! Every single frame of it had to be painstakingly recorded and then stitched together. There weren't any computers, much less CGI, to make that job easier.
I loved the world building of this film. Charley was just as surprised as the audience was by the existence of a metal bird who ate metal and turned all of those scraps into a beautiful, white egg.
The fact that the egg hatched into a brand new car made me laugh! I was expecting another metal bird to start running around. Honestly, the only thing better than that was the parent-bird's response when Charley said that he wanted to take the bird and start making a whole factory's worth of new cars for them to sell.
I might have done the same thing if I were in his shoes. When you find yourself in a surreal situation, why not take it to its logical conclusions?
This is something I would love to see a sequel for. Where are the other metal birds, if they still exist or ever existed? Where did this metal bird come from? At what point does a car evolve into a bird in this universe? Or does every mechanical creature spawn offspring that look nothing at all like itself?
What a fun story it was at any rate. I'm glad I had a chance to blog about it for Vintage Science Fiction month.