Hosted by Long and Short Reviews.
Click here to read everyone else's replies to this week's question and here to see the full list of topics for the year.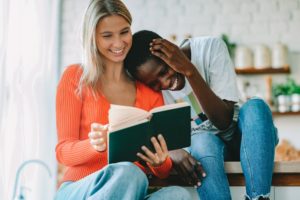 This might make me sound a little like a Pollyanna, but it's genuinely how I feel.
I think the best way to spread your love of books is to focus on your favourite aspects of the genres or authors you read and to be as descriptive as possible when discussing what you love about them.
A little positivity goes a long way in drawing likeminded readers to you and focusing on what well-written stories have in common across genres and generations.
I can't say if this is true for everyone, but I've also found that I'm more likely to try specific books from genres like romance that I'm not generally drawn to when people give detailed descriptions of what they loved about that particular story.
For example, was there a fantastic plot twist that they didn't see coming?  Did the characters break the rules of their genre in funny or memorable ways? Was the writing exquisite? How long did it take that reader to realize the character development was going to completely change their opinions on characters X and Y, whether for better or for worse? Or maybe the story was set in a time and place that isn't generally used in that genre but that suited the plot and characters perfectly?
You get the idea.
Some readers might like wildly different genres or styles of writing, but I think we can all find common ground if we dig deeply into what makes reading such a worthwhile hobby.