Hosted by Long and Short Reviews.
Click here to read everyone else's replies to this week's question and here to see the full list of topics for the year.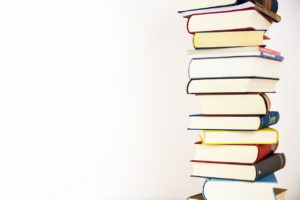 The best I could do was to narrow my answer to this week's prompt down to two different answers.
I've loved the speculative fiction genre since I was a little kid. Whether it was paranormal, science fiction, fantasy, or something similar to one of these categories, I adore stories about things that aren't actually possible in our world.
Some of the oldest speculative fiction stories out there have predicted things like travelling to the moon or cell phones that were the stuff of dreams during their eras but are now perfectly possible and even ordinary in certain cases.
On the other side of the spectrum, I've grown to love nonfiction as an adult.
Biographies and memoirs give us intimate glimpses into the lives of others and often include insight into how they surmounted even the most difficult circumstances.
History class was often a little boring when I was a kid, so it was thrilling to grow up and learn about the many historical figures and events that my teachers either never talked about at all or only went into scantest details about before moving on to yet another war or royal dynasty. (Kudos to those of you who enjoy reading about royalty and/or war, of course! They're simply not my cup of tea).
I try to keep Wednesday Weekly Blogging Challenge posts brief, so I'll only mention one other type of nonfiction that excites me. It's marvellous to learn about new scientific discoveries and advancements in any number of fields as well.
Sometimes books are written about archeological discoveries, medical advancements, or distant celestial bodies that we're still gathering information about. Occasionally, a scientist might write an entire book about a species like eels or earthworms that we've recently discovered a whole bunch of fascinating information about.
I devour all of these these books with gusto. The real world can be just as filled with wonder and excitement as any imaginary one in a faraway magical land  if you pay close attention!