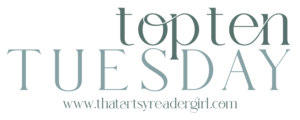 Hosted by That Artsy Reader Girl
Here's a quick heads up before I jump into today's post. Long and Short Reviews is hosting a virtual party on their site this week to celebrate their 16th anniversary. If you'd like to learn about new indie and small press books in a wide variety of genres or win one of the gift certificates or other great prizes, click on the second link in this paragraph and read some of their guests posts to find out how to enter the drawings.
Okay, onto Top Ten Tuesday stuff now.
The genre topic I picked for this week's freebie post is memoirs written by women.
I enjoyed all of these books and would recommend them to anyone who likes memoirs or who wants to learn more about the lives of these incredible women and girls.
1. The Diary of a Young Girl by Anne Frank
2. I Know Why the Caged Bird Sings (Maya Angelou's Autobiography, #1) by Maya Angelou
3. Infidel by Ayaan Hirsi Ali
4. I Am Malala: The Story of the Girl Who Stood Up for Education and Was Shot by the Taliban by Malala Yousafzai
5. Educated by Tara Westover
6. Becoming by Michelle Obama
7. Furiously Happy: A Funny Book about Horrible Things by Jenny Lawson
8. Call the Midwife: A True Story of the East End in the 1950s by Jennifer Worth
9. Inheritance: A Memoir of Genealogy, Paternity, and Love by Dani Shapiro
10. Maid: Hard Work, Low Pay, and a Mother's Will to Survive by Stephanie Land