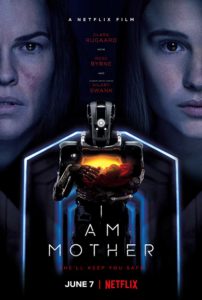 Content warning: death of a pet and blood. I will not be discussing these things in my review.
I Am Mother is a 2019 Australian science fiction thriller about a human girl who was raised by a robot that was designed to repopulate the Earth after some sort of extinction event.
The characters in this tale don't have conventional names like you or I do. Instead, the human child is called Daughter and the robot who raised her is called Mother.
While Daughter is well cared for, her isolation not only from other people but from anything outside of their isolation bunker is absolute.
Mother insists it isn't safe out there, and her word is law.
Characters
Daughter was an intelligent and thoughtful young woman. She'd previously been obedient of Mother's wishes, but her curiosity about what life was like outside of the UNU-HWK_Repopulation Facility and dissatisfation with what her mother told her about it was growing stronger by the way.
Mother the robot who had raised Daughter and who was making preparations for the next human infant she'd take responsibility for. She was strict and protective of her daughter. While Daughter's health and happiness was important to her, she refused to compromise on any of the rules she'd come up with on how best to raise a human child in a post-apocalyptic environment.
Woman was the injured, dying stranger who stumbled upon the bunker one day. She'd lived a life filled with fear and danger. Every move she made was calculated to give her the highest probability of surviving just one more day.
My Review
Just like with Annihilation, my biggest reason for wanting to watch this film had to do with the fact that all of the main characters in it were women. All of the science fiction films I grew up watching were male dominated. Some of them were comprised of nothing but dudes. Others might have as many as one female hero for every three, four, or five male heroes.
I'm elated to see this changing, and I'll continue to highlight science fiction films that change those old norms as I find them.
You may have noticed that the cast for "I Am Mother" is pretty small. No, I didn't leave anyone out to avoid sharing spoilers. This tale was so tightly woven around the fates of the three main characters that they seemed like the perfect number of players for the plot.
Mother, Daughter, and Woman were three complex individuals whose goals sometimes clashed sharply. Finding a solution to their conflicts that satisfied all three of them would be a herculean task at best because of how differently they all measured success and how much friction existed between what everyone wanted.
No, I can't go into more details about that without giving you spoilers. It is definitely something that's worth exploring for yourself, though. I'm the sort of viewer who picks one character – not necessarily the hero, mind you – and spends the entire film hoping she will succeed. In this case, my loyalties shifted from one scene to the next.
One of my strengths as a viewer is that I always want more information about the science in science fiction, so there were a few things about Daughter's upbringing that I wish had been addressed with a bit more detail. For example, how was Mother planning to keep her immune system strong when the girl had never been exposed to any outside germs? Were there vaccines for every possible virus and bacteria in this world? How did Daughter get sufficient vitamin D when she'd never been outside and ate what appeared to be a somewhat monotonous diet?
These weren't exactly criticisms, though, because I came to easily accept other parts of her existence that were spaced even further away from our current scientific understanding of human biology and growth patterns. I strongly suspect that wondering about how this stuff actually worked, alongside many other questions this story brings up, is something the filmmakers did on purpose for their audience.
Some questions become more interesting if you're not spoon-fed answers to them, especially since the mystery elements of the plot were so simple to put together in my experience. There were plenty of clues about what was really happening with Mother and Daughter for anyone who pays attention to what they're watching and thinks critically about it.
I figured out the mystery pretty early on. What was compelling about it was seeing how Daughter reacted to the clues she also had access to and what happened when she realized that the information she already had wasn't fitting together the way it should.
Something was missing.
I'll leave it up to my readers to discover what that something was. What I will say is that this is a film I'd happily watch again. It was simply that well written and thought provoking.
I Am Mother is available on Netflix.