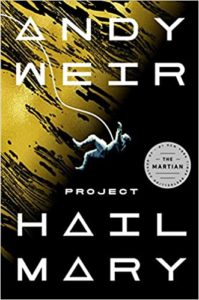 Title: Project Hail Mary
Author: Andy Weir
Publisher:  Ballantine Books
Publication Date: May 4, 2021
Genres: Science Fiction, Mystery
Length:476 pages
Source: I borrowed it from my local library.
Rating: 5 Stars
Blurb:
Ryland Grace is the sole survivor on a desperate, last-chance mission—and if he fails, humanity and the earth itself will perish.
Except that right now, he doesn't know that. He can't even remember his own name, let alone the nature of his assignment or how to complete it.
All he knows is that he's been asleep for a very, very long time. And he's just been awakened to find himself millions of miles from home, with nothing but two corpses for company.
His crewmates dead, his memories fuzzily returning, Ryland realizes that an impossible task now confronts him. Hurtling through space on this tiny ship, it's up to him to puzzle out an impossible scientific mystery—and conquer an extinction-level threat to our species.
And with the clock ticking down and the nearest human being light-years away, he's got to do it all alone.
Or does he?
An irresistible interstellar adventure as only Andy Weir could deliver, Project Hail Mary is a tale of discovery, speculation, and survival to rival The Martian—while taking us to places it never dreamed of going.
Review:
Content warning: Death and serious bodily injuries. I will not be discussing these things in my review.
Failure isn't an option here if humanity is to survive.
There were multiple sections of this book that went into great detail about the physics and math behind the experiments Ryland ran as he attempted to solve the scientific mystery that was threatening to drive humanity to extinction. This was most definitely a work of hard science fiction. I suspect that people who have university-level degrees in math, science, or technology will get the most out of those passages, but I did understand what the main character was saying. Keep pushing through those passages if you struggle with them. They're important for the plot, but the narrator will often explain them again in other ways later on if you need a refresher.
I loved the foreshadowing. Yes, it was a little more heavy handed than what I'd typically expect to find in this genre, but given the complex and technical nature of most of the problems Ryland needed to solve I think that was the best choice for most people who will be reading this.
The hopeful nature of the storyline was delightful, so don't be fooled by the urgent and sad vibe of the first couple of scenes. There were so many wonderful plot twists after that point, some of which I didn't see coming and found quite relieving once they did arrive. As much as I want to go into vivid detail here, I keep my reviews spoiler-free and want you all to discover these moments for yourselves.
Ryland was a well-developed character whose wry sense of humour often made me chuckle. I enjoyed seeing how quickly and (usually) calmly he came up with new ideas when he was in a crisis and his previous solutions didn't pan out. He honestly reminded me a bit of Mark Watney from Weir's earlier book, The Martian. While these characters lived in different universes, I enjoyed comparing and contrasting them. Some of Ryland's strengths were things that Mark probably would have found difficult, so that was an extra layer of amusement for anyone who is already familiar with this author and his previous works.
Project Hail Mary was an amazing adventure that I heartily recommend to anyone who loves hard science fiction.