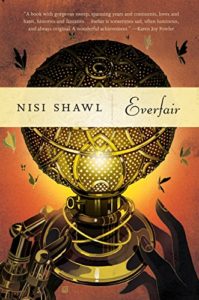 Title: Everfair
Author: Nisi Shawl
Publisher: Tor Books
Publication Date: 2016
Genres: Fantasy, Alternate History, Steampunk
Length: 384 pages
Source: I borrowed it from the library.
Rating: 3 stars
Blurb:
From noted short story writer Nisi Shawl comes a brilliant alternate-history novel set in the Belgian Congo.
What if the African natives developed steam power ahead of their colonial oppressors? What might have come of Belgium's disastrous colonization of the Congo if the native populations had learned about steam technology a bit earlier?
Fabian Socialists from Great Britain join forces with African-American missionaries to purchase land from the Belgian Congo's "owner," King Leopold II. This land, named Everfair, is set aside as a safe haven, an imaginary Utopia for native populations of the Congo as well as escaped slaves returning from America and other places where African natives were being mistreated.
Shawl's speculative masterpiece manages to turn one of the worst human rights disasters on record into a marvelous and exciting exploration of the possibilities inherent in a turn of history. Everfair is told from a multiplicity of voices: Africans, Europeans, East Asians, and African Americans in complex relationships with one another, in a compelling range of voices that have historically been silenced. Everfair is not only a beautiful book but an educational and inspiring one that will give the reader new insight into an often ignored period of history.
Review:
Content warning: Racism and sexism. I will not be discussing these things in my review.
Strap in for a wild ride.This book has a bit of everything!
Ms. Shawl did a very good job of explaining the political and historical landscape of the setting. I didn't know a lot about how Belgium colonization of the Congo went so horribly wrong in our world, so I was grateful for all of the details the author provided about why Belgium made that decision and how they expected to make it work before she imaged how things could have turned out much differently for the Congo if they'd already had steam technology when this conflict boiled over.
The cast of characters was massive. Rather than telling this tale from the perspective of one or even a few different people, there were dozens of narrators and other protagonists to sort out as I read. Given the fact that each chapter was written in a form that was pretty similar to a short story and that previous characters often weren't revisited until many years after their previous entry, I had lots of trouble keeping up with everyone and the plot at the same time. This felt like something that really should have been separated out into several novels or many more novellas. There was so much going on in the plot that nobody got all of the attention they deserved.
There was a list of characters, their relationships to each other, and approximately when and where they lived included before the story began. I was glad to have this information and would highly recommend taking a look at it before beginning the first chapter. As I mentioned earlier in this review, the cast of characters is humongous. Having a basic idea of everyone's identity and when they lived is crucial in order to understanding the plot, and this list did help with that even though I still believe the plot would have been better served if it were divided into a series and no more than three or four narrators were included in each instalment.
Anyone who loves alternate history speculative fiction should check this book out.