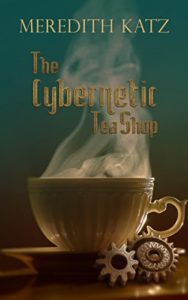 Title: The Cybernetic Tea Shop
Author: Meredith Katz
Publisher: Soft Cryptid (Self-Published)
Publication Date: July 30, 2019
Genres: Science Fiction, LGBTQ, Romance
Length: 118 pages
Source: I borrowed it from the library. Thank you to Berthold Gambrel for reviewing it and bringing it to my attention!
Rating: 4 Stars
Blurb:
Clara Gutierrez is an AI repair technician and a wanderer. Her childhood with her migrant worker family has left her uncomfortable with lingering for too long, so she moves from place to place across retro-futuristic America.
Sal is a fully autonomous robot. Older than the law declaring her kind illegal due to ethical concerns, she is at best out of place in society and at worst vilified. She continues to run the tea shop previously owned by her long-dead master, lost in memories of the past, struggling to fulfill her master's dream for the shop while slowly breaking down.
They meet by chance, but as they begin to spend time together, they both start to wrestle with the concept of moving on…
A F/F retro-future sci-fi asexual romance. A story about artificial intelligence and real kindness, about love, and the feeling of watching steam rising softly from a teacup on a bright and quiet morning.
Review:
Content Warning: Arson.
It's never too late to try again.
Some of my favourite scenes were the ones that explored how Sal's programming nudged her to make decisions that many humans would not. For example, her idea of terms like lifespan or forever were not the same as they were for Clara. The author did an excellent job of digging deeply into the psychology of artificial intelligence and showing the audience how a robot might really think about and interact with those around them.
I did find myself wishing for more world building in this story. This was set at least three hundred years in the future, yet most of the technology and culture was fairly similar to what we have today. That struck me as odd and pulled me out of the plot. It would have been helpful to either have a good explanation for why things had advanced so slowly or to see more examples of how their world was different from ours.
This was such a refreshing take on the romance genre. Whether you read a ton of romance novels or tend to avoid that genre altogether, I suggest going into this one without any assumptions about what's going to happen next. It broke so many of the rules about how falling in love is supposed to look that I honestly couldn't say for sure what would happen from one scene to the next. That's the sort of thing I love to discover when trying out new authors, so I will definitely be keeping an eye out for what Ms. Katz comes up with next.
The Cybernetic Tea Shop was a cozy and romantic read.