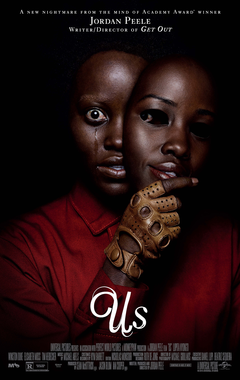 Content warning: mental illness, blood, violence, and trauma.
Us is a 2019 American horror film about a family who was terrorized by their doppelgängers while they were on what was supposed to be a peaceful beach vacation.
It was directed by Jordan Peele, the same director who released Get Out in 2017.
This is one of those films that works best in my opinion if you know as little about the storyline in advance as possible.
For this reason, my review is going to skirt the fine line between avoiding all spoilers and still managing to discuss the important social messages in this story.
Save this post to read after you've finished watching Us if you're the sort of viewer who wants to know nothing at all about it in advance.
For everyone else, this will be a 99% spoiler-free review.
Characters
Adelaide had never fully recovered from a traumatic childhood experience she had at the same beach her family now wants to visit on their vacation. Her hyper-vigilance and flashbacks were now threatening to derail the cheerful trip her husband and kids had been looking forward to for so long.
She was an intelligent, dedicated person who always thought through every possible scenario before making a decision.
Gabriel was Adelaide's fun-loving husband. He had a trusting, kind personality and usually looked for the best interpretation of possibly unsettling events.
Zora was Adelaide and Gabriel's exasperated teenage daughter. She was just a little too old now to still fully enjoy family vacations, especially when they involved a cottage that didn't have Internet access.
Her hobbies included jogging and googling everything before she believed it.
Jason was Adelaide and Gabriel's son. He was approximately ten years old and still thought family beach vacations were the highlight of the summer.
His hobbies included practicing magic tricks and pushing the limits on which words his parents would add to their list of forbidden swear words if he said them with the right intonation.
Kitty was Adelaide's saucy childhood friend who always spoke her mind. Her hobbies included finding the humour in everything and dreaming of what her life would have been like if she'd waited until she was older to become a mother.
Josh was Kitty's husband. Finding the right drink for every occasion was his favourite hobby. I understood him as someone who genuinely enjoyed alcohol but who did not have an unhealthy dependency on it. He simply loved the challenge of matching drinks to people's moods and current activities.
My Review
Some of the films I've reviewed in the past can be watched while doing other things that briefly take your attention away from the screen. The first clue about what was really happening here technically popped up before the first scene even started, so I strongly recommend giving this your full attention from beginning to end. In other words, grab your snacks and mute your cellphone ahead of time!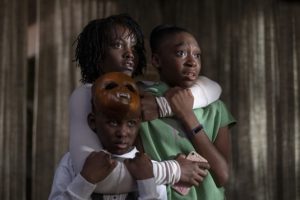 One of my favourite type of horror is anything that comes embedded with a social message. The preview for this film makes it look like a slasher flick. While there were certainly elements of that horror genre, there was a lot of thought-provoking material that couldn't be included in that clip for spoiler reasons.
I find it difficult to say much about what that social message was or why it was so thought-provoking because of how late in the storyline it was fully revealed. What I can say is that it is a good idea to have a basic grasp of U.S. history before watching Us if you're not already familiar with it. Don't worry about memorizing dates or names or anything like that. Just get a feel for how that country was founded and how it's developed over the past few hundred years.
This was the sort of story that can be interpreted in multiple ways. There are at least four of them, and maybe more than that depending on which viewers are polled. Don't worry, I won't be listing those theories here. What I will say is that the plot gives varying levels of evidence for all of them and I personally suspect more than one of them is right. (Maybe all of them are right!)
The doppelgängers were simultaneously frightening and fascinating. Yes, there were  logical reasons given for their existences. Somehow figuring out what those reasons were only made them scarier to me. I really liked the way they quickly evolved from generic bad guys into something much more than that.
There was one subplot that I wish had been given more attention and development. It involved the inclusion of rabbits of all things. I still haven't been able to figure out why that particular animal was added to such a dark storyline. It's a minor criticism of something I really enjoyed, but I do wish they'd either been cut out of the plot altogether or, even better, given more opportunities to get tied in with everything else.
The characters occasionally pivoted from terrifying experiences to brief moments of humour. That was a pleasant surprise, and it was one of the many reasons why I enjoyed Us so much.
So long as none of the content warnings involve things that you personally avoid watching, I recommend Us to all adult viewers.
Us is available on Crave and Apple TV.