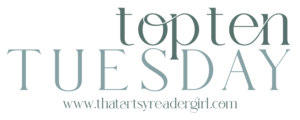 Hosted by That Artsy Reader Girl
This week's original theme was "Book Covers In the Colors of My Country's Flag."
I had trouble finding covers that fit it, so instead I'll be talking about Canadian books I still need to read.
If you've read any of these books, I'd like to hear what you thought of them.
1. The Book of Negroes by Lawrence Hill
2. The Jade Peony by Wayson Choy
3. The Cure for Death by Lightning by Gail Anderson-Dargatz
4. Ru by Kim Thúy
5. Anil's Ghost by Michael Ondaatje
6. Life of Pi by Yann Martel
7. Cat's Eye by Margaret Atwood
8. Indian Horse by Richard Wagamese
9. Who Has Seen the Wind by W.O. Mitchell
10. Bride of New France by Suzanne Desrochers
What famous books from your country have you not read yet?