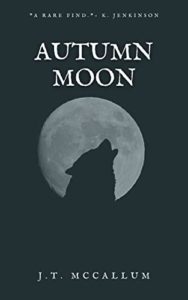 Title: Autumn Moon
Author: J.T. McCallum
Publisher: Self-Published
Publication Date: September 9, 2020
Genres: Horror, Fantasy, Contemporary
Length: 12 pages
Source: I received a free copy from the author.
Rating: 5 Stars
Blurb:
An attack from a supernatural assailant forces a group of drunken bar patrons to fend for their lives as they try to survive the night.
Review:
Content Warning: Alcohol, characters getting drunk, and some brief scenes of blood, murder, and violence in a bar brawl.
Not everyone knows what to do in an emergency.
The identity of the supernatural assailant becomes evident almost immediately in this story. I'll refrain from naming it this review for those of you who want to avoid even the mildest of spoilers, but knowing the answer ahead of time will in no way ruin the storyline for anyone who figures it out from context clues or reads other reviews that do give it away. I liked the way the author explored a terrifying interpretation of the relationship between humans and something so different from us, especially since many other contemporary stories about this topics tend to romanticize an incredibly dangerous and unpredictable creature.
Honestly, twelve pages isn't a lot of space to include character development, but Mr. McCallum took advantage of every inch of them to demonstrate how the unnamed protagonist's curiosity, cowardice, studiousness, and clumsiness swirled together to try to keep him alive. I can't say he was someone I'd necessarily want to hang out with due to how little we had in common, but I was intrigued by this character's journey and wanted to see if he'd make it out of the bar okay after everything fell apart in an instant.  
The final sentence was what convinced me to give this a perfect rating. Yes, the earlier scenes were predictable for anyone who has read much Halloween-adjacent horror or fantasy at all, but this wasn't the sort of tale that demanded a clever plot twist. What kept me reading was wondering how he was going to react once he realized what the audience figured out much earlier, and this was where the writing excelled. I grinned when I finished the last word and wished there were thousands more of them. If that's not worthy of a five-star rating, what is?
Autumn Moon was exactly the sort of scary read I needed to kick off the Halloween season.