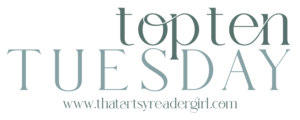 Hosted by That Artsy Reader Girl
Here are some of the things that make me instantly want to read a book.
1. It's written by one of my favourite authors.
This doesn't mean I'll automatically love a book, but it certainly raises the odds of that happening!
2. Someone in my inner circle recommended it.
Once again, this isn't a guarantee I'll like it, but it is a good sign for sure.
3. It's about prehistory, hunter-gatherers, and/or Neanderthals 
There aren't enough stories about those topics if you ask them.
4. The narrator breaks the fourth wall.
When done well, there's nothing like a narrator or protagonist speaking directly to the audience as if they've known all along we've been following on with them on their journey. I get a thrill every time this happens.
5. It is hard science fiction. 
I am in awe of science fiction writers who are able to write this sort of thing. Someday I'd like to join their ranks.
6. There are biographical elements to the story. 
Autobiographies and biographies are some of my favorite types of nonfiction to read because of how much you can learn about a person and the era they lived in by following someone's life from beginning to end. I also enjoy fictional stories that are anywhere from loosely to heavily based on the lives of real people.
7. It is a banned book. 
There's something about banning books that makes me want to read them. Maybe it's part of human nature?
8. The plot includes humorous moments.
I read a lot of heavy stuff, so I'm always on the lookout for lighter fare to balance out my literary diet.
9. It includes happy pet rabbits who do not die at the end!
Those disclaimers are needed due to how many books about pets have a tendency to end with the pet's death.
When I see a happy little rabbit featured on a cover or mentioned in a title or blurb, the chances of me wanting to read that book skyrocket even if it's in a genre I don't usually pick up like romance or World War II fiction.
I adore rabbits, but they don't show up very often in cheerful scenes in adult literature.  (Luckily, children's books do not have that problem, so I still have plenty of rabbit fiction in general when I want it. 🙂 )